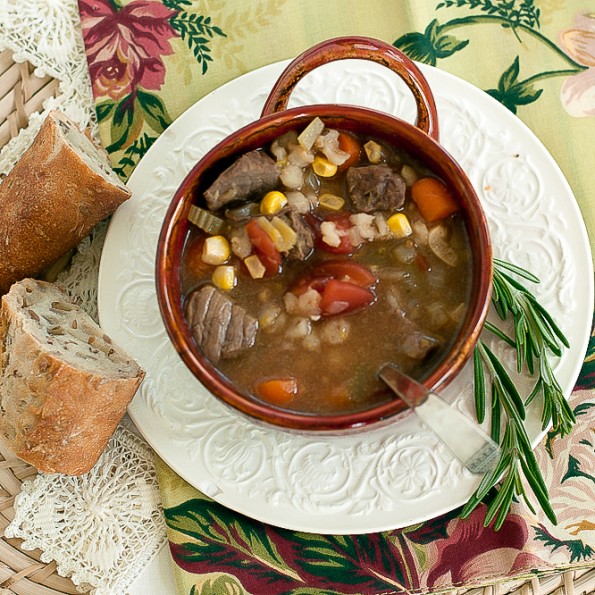 A week ago, I was grilling out and wearing sandals.
Today, I'm making soup and wearing gloves when I walk my dogs.
I don't mind much – such is April in Ohio.
It's a soup day and I had plenty of ingredients for soup. Since joining WeightWatchers a week ago, one thing I have an abundance of vegetables in my refrigerator.
Every time I go to the grocers, I stock up on veggies. Every time Hubby goes to the grocers, he stocks up on veggies.
Plenty of veggies to go around here so it's time for Beef Vegetable and Barley Soup. This recipe is so versatile, you can use any or all vegetables in this soup and not go wrong.
Allow yourself plenty of time to simmer…or put it in a crock pot in the morning and you'll come home to deliciousness at night.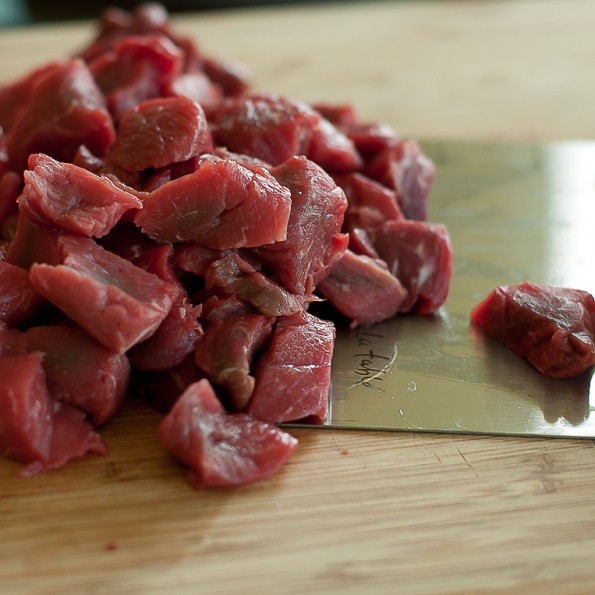 Start with 1 and 1/2 lbs. stew beef and cut into little pieces. Heat 2 tbs. canola or grape seed oil in a large saute pan and brown meat.
I throw in 1 tbs. Montreal seasoning once the beef is browned. Remove beef from pan and set aside.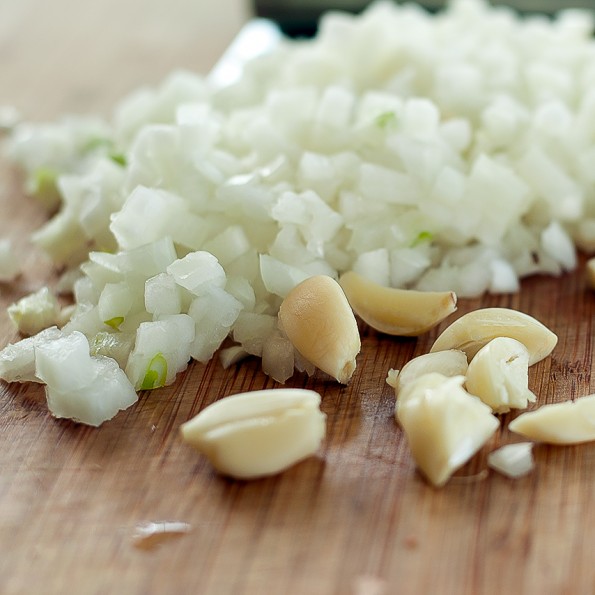 Dice 1 onion and peel 5 – 6 cloves of garlic; cut garlic cloves into three pieces. Saute onions and garlic in the same pan that you browned the meat.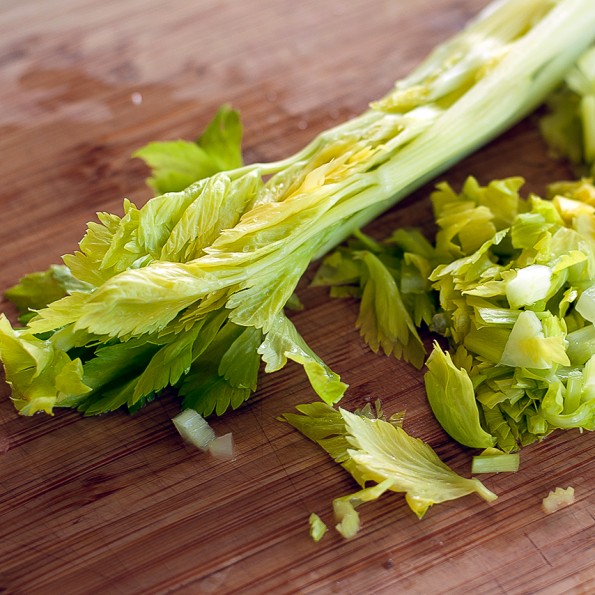 Dice about 3 stalks of celery – I like to use the tender celery hearts and leaves for soup. In that case, chop 6 small stalks.
Slice three carrots. Add carrots, celery and barley  to the sauteing onions/garlic. Cook until tender scraping up the bits of browned beef (about 5 minutes).
Add 1/2 cup red wine to the sauteed vegetables.
Add 4 cups of canned beef broth. (I recommend not skimping on the quality of beef broth here – you want flavor!)
Add one 14 oz. can of diced tomatoes in juice.
Add 2 cups of water and bring everything to a boil.
Place browned beef and sauteed veggies in a crock pot.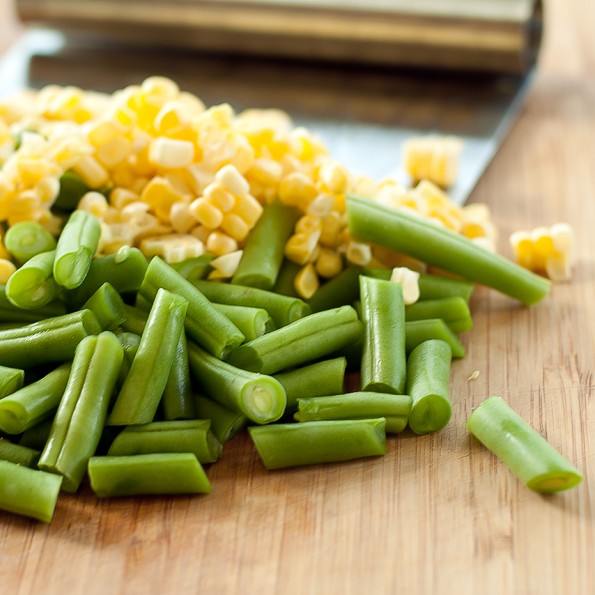 Now's the time to clean your frig!
I had an ear of corn, fresh green beans and mushrooms. You can use cabbage, peas, spinach – anything goes!
Chop 'em up and throw them in the crock pot.
I add a few sprigs of fresh thyme and 2 bay leaves.
Cover the crock pot and cook on high for 4-6 hours or on low for 8-10 hours.
Before serving, I add 1 – 2 tsp. of hot sauce to the soup – you can eliminate this if you don't want the kickl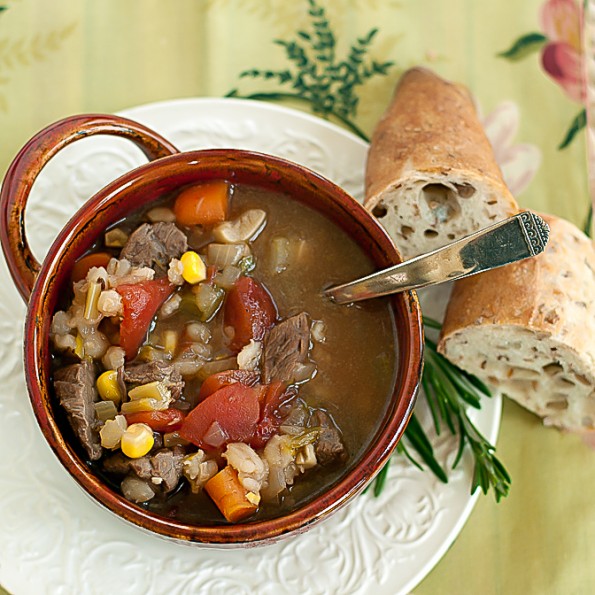 The beef will be tender, your tummy full and your refrigerator empty!
Beef Vegetable and Barley Soup
A Kitchen Muse: A Kitchen Muse
Recipe type: Soup
Prep time:  
Cook time:  
Total time:  
Serves: 8
A hearty, healthy soup that helps use up those veggies in the frig!
Ingredients
2 tbs. vegetable oil
1 and 1.2 lbs. beef stew meat
3 celery stalks, chopped
½ cup each chopped veggies of your choice (beans, corn, cabbage, peas, okra)
1 large onion, chopped
5 – 6 garlic cloves, chopped coarsely
3 carrots, sliced or diced
½ cup pearl barley
2 cups water
4 cups canned beef broth
½ cup red wine
1 14.5 oz. can diced tomatoes in juice
2 sprigs fresh thyme
2 small bay leaves
salt and pepper to taste
1½ to 2 teaspoons hot pepper sauce
Instructions
Heat oil in large pot over medium-high heat.
Add stew meat and sauté until beef is dark brown, about 8 minutes.
Throw in 2 tbs. Montreal Steak seasoning.
Remove beef from pot.
Add celery, onion, garlic, carrots and barley to pot.
Sauté until golden, about 15 minutes.
Add ½ cup red wine to sauteed onion mixture.
Add 2 cups water, beef broth, tomatoes with juices and bay leaves.
Bring to a boil.
Place beef and broth in crock pot and cook on high for 4-6 hours or low for 8-10 hours.
Add hot pepper sauce to soup.
Season with salt, pepper, and more hot pepper sauce, if desired.